Safety Gate for Pellet Stove
So here's a tip for anyone who owns a pellet stove (or a wood stove, for that matter).
We have a pellet stove in our living room. We also have dogs and occasionally take care of other people's dogs. Our pooches know to stay away from the hot stove, but we were worried that others may accidentally fall against the hot glass if they are wrestling too energetically.
I started searching for 'pellet stove gate' or 'pellet stove child gate' but didn't really find too much. But then I found one that looked exactly like what I wanted. It is made by Kidco but I think they're based in the UK.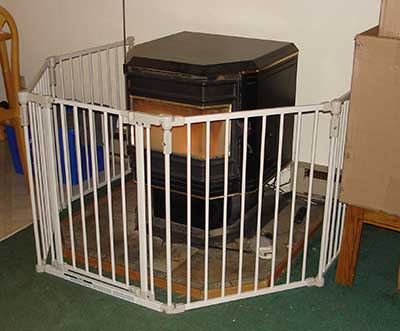 Ah…but then I found this:
North States 3-in-1 Super Yard Metal Gate
I've seen this other places for $149 but Amazon sells it for $99.
I personally think it's related to the Kidco one because the text of the description was almost exactly the same. But this costs close to half as much as the other. My guess is that someone started selling the UK gates here, but I don't really know.
The only thing different about the North States brand is that it is a beige color instead of black, and has six panels (the Kidco one only has five). Although we're only using five panels (easy to do; it's very customizable).
I bought it from Amazon and it came very quickly. You can tweak the shape to be anything you want and then lock it in place by rotating the bars that are at each corner. It comes with wall brackets if you wanted to mount the ends to a wall, but we just left it free-standing because we have heaters along the baseboards.
I'm thrilled with it! It's metal and very sturdy. It's just what I had envisioned to block the pellet stove from the dogs when they play. I admit it's harder to fill the hopper with pellets with the gate there, but the safety factor is worth it. And the ash bin can easily pull out when the door is open.
I saved the box it came from, so when winter is over, we'll just fold it up again and put it away.
So there you go. If you're looking for a child gate or pet gate for your pellet stove or wood stove, this one was perfect for us. If you want to check out reviews on the more expensive one for comparison purposes, here's the link:
Kidco Hearth Gate